When was the last time you scheduled roof cleaning for a Garden City, MI, structure? If it's been several years, you're certainly not alone! A property's roof is often one of the last things that people think about when it comes to everyday upkeep.
Additionally, some property owners might wonder if roof cleaning is safe or somehow damages roofing materials. Before you go another year without roof washing, check out some vital information about this service. Then, discuss your needs with a power washing contractor near you!
Is roof cleaning for Garden City properties a good idea?
Roof cleaning in Garden City, MI is both a bad and good idea! What is meant by this? First, note that professional roof washing offers many benefits, even protecting roofing materials. Second, improper washing techniques might do just the opposite and damage your property's roof. Check out what is meant by that:
Is roof cleaning damaging to a property?
Improper roof washing tools and techniques might damage a structure's roofing materials, as said. For instance, too much pressure can strip shingle granules or crack brittle tile. Also, the wrong cleaning angle can dislodge shingles and tiles, or loosen their connectors.
Additionally, using harsh cleansers or not rinsing them properly might dry out roof shingles, risking damage. Soap residues can also attract more dirt than before! For all these reasons, it's best to leave any power washing services to a professional.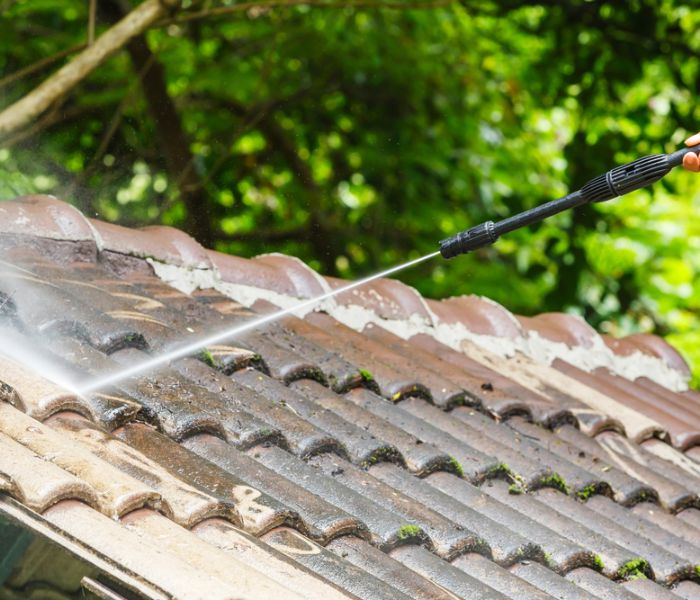 Is it a good idea to clean your roof?
On the other hand, professional roof cleaning is not only safe but offers a number of advantages! One, roof washing removes storm debris that holds moisture against the roof. Two, roof cleaning washes away sand, silt, and other gritty debris that might damage shingles and tiles.
Additionally, a thorough roof washing cleans damaging mold and algae that can grow and spread between roof tiles. Moreover, removing mold, dust, soot, chemicals, and pollen creates a cleaner outdoor environment! You'll breathe easier and notice fewer bothersome odors when you invest in regular roof washing. Above all, your property will look clean and pristine from the top down when you choose regular roof washing.
What happens if you don't clean your roof?
Neglecting needed roof washing can result in eventual damage. For instance, storm debris holds moisture against a roof, as said. That moisture can break down shingles and tiles, risking premature damage. If it works its way under those tiles, this risks damaged roof decking and rafters.
Additionally, thick layers of neglected debris often end up in gutters, risking clogs. Those gutters protect exterior walls and foundations from water damage by directing rain and melting snow to nearby downspouts. In turn, clogged gutters risk costly damage to your property! Roof washing helps remove debris that would otherwise cause those clogs.
Also, note that growing mold and algae can work their way underneath tiles and shingles. Consequently, you're more likely to lose those materials in a storm. Those debris can even weaken roofing materials and damage underlying decking. On the other hand, roof washing removes even the thickest mold, moss, mildew, and algae.
Frequency recommended for roof cleaning
In many cases, roof washing every few years offers sufficient cleaning. However, some property owners should increase that frequency, scheduling roof washing every year or even more often! For instance, consider homes near a busy roadway or production facility that produces thick airborne soot and dirt. In those cases, you might schedule roof washing every few months.
Also, outdoor grills and kitchens and even cigarettes create lots of smoke and ash that end up on nearby roofs. Additionally, properties near open fields or large gardens are often covered with pollen and other plant residues. Frequent roof washing removes these unwanted irritants, keeping both your property and outdoor air cleaner year-round!
Moreover, consider roof washing before hosting a holiday party or other special event, or a business open house, or when opening the patio for the season! Also, realtors often recommend exterior power washing before putting your home on the market. Thorough pressure washing of your property from top to bottom ensures it looks its best. Expert cleaning also removes bothersome odors that might turn off potential buyers or visitors.
Garden City Power Washing Experts is happy to provide this information about roof cleaning a Garden City property. If you found it helpful, please share it with others! Also, call our Garden City power washing contractors for your expert pressure cleaning needs. We provide FREE quotes and guaranteed services. Above all, we're happy to answer all your question about needed roof cleaning and power washing. To get your property started, contact us right now!